Announcements
Dancing the Earth - Art Exhibit
October 6 - November 10, 2018
Opening Reception and Grand Reopening of Art Gallery of St. Albert, October 6, 2018
6 Perron St, St. Albert, AB
Leah Dorion is an interdisciplinary Métis artist from Prince Albert, Saskatchewan. Her vibrant and symbolic paintings honour the spiritual strength of Indigenous women and the sacred feminine.
Symbol systems are predominant in Indigenous art and are a powerful and dynamic way to pass historical and spiritual knowledge forward through generations. Dorion applies them in her art to convey a variety of important cultural teachings. Incorporating a range of mediums such as her beads, birch bark, river rock, and shells. Dorion shoares her Métis heritage through joyful, tactile contemporary works. Rich, celebratory narratives pay homage to her First Nations and Métis women ancestors, sharing through active, intriguing imagery.
Dorion is a skilled artist and storyteller. Whether on the gallery wall or in the numerous books she has illustrated, her lively art creates a compelling visual dialogue and a potent spiritual expression.
"Dancing the Earth celebrates the beauty of the earth and the Energy of life that abounds within this great circle of life."
-Leah Dorion
-----------------
Leah on CBC Radio!
Leah was recently interviewed on CBC Radio by Eric Anderson. Listen to the interview here! (10 min 15 seconds)
-----------------
Leah's Art is on Storybird.com!
With the support of the Library Services for Saskatchewan Aboriginal Peoples (LSSAP) Digital Imaging Project, Leah's original art is now available for kids and adults to write and print their own books and poetry. Visit www.storybird.com to check it out!
| | |
| --- | --- |
| | |
| Title: Three Red Wing Blackbirds, 2015 | Title: Waving to the Northern Lights, 2015 |
-----------------
NOW AVAILABLE: Mother Earth Colouring and Activity Book (2015) by Metis Artist Leah Marie Dorion
This original colouring book gives children of all ages and families an opportunity to explore and discover Indigenous culture through colouring. Arts educator Leah Marie Dorion enhances the colouring experience by providing activities to develop basic creative and critical thinking, and drawing skills. This book was specifically made for parents, early learning teachers, art educators, childcare programs, and family literacy programs who want imaginative interactive learning materials with Indigenous content. Discounts are available for bulk orders please email for purchase information. leahdorionart@gmail.com

Concepts supported in this colouring and activity book are:
Concept of guidelines and outlines
Link thickness, flow, and shape
Proportion, balance, and symmetry
Hand drawing skills
Adding embellishments and individual expression
Indigenous symbolism and interpreting patterns and designs
Colour effects and pattern
Sequencing and following steps and directions

MADE IN SASKATCHEWAN

Also Available at:

Gabriel Dumont Institute Publishing Dept.
2-604 22nd Street West, Saskatoon, SK
S7M 5W1
(306) 934-4941

The Mann Art Gallery
142-12th Street West, Prince Albert, SK
S6V 3B5
(306) 763-7080

-----------------
When a mother…

When a mother writes, she observes the world.
When a mother reads to her children, she nurtures imagination.
When a mother sings songs of inspiration, she spreads joy.
When a mother searches out solutions, she role models creativity.
When a mother asks her child for an opinion, she brings forward voice into our world.
When a mother smiles, her home is warm and loving.
When a mother is self-aware, she holds a powerful fire!

-Leah Marie Dorion
-----------------
Leah is now working with puppets to share Indigenous cultural and environmental knowledge with young children and families. Puppets are a great way to bridge literacy and they are a fun way to share and learn cultural teachings through play. Contact her for more information about her puppet shows, puppet making, and puppet workshops.

-----------------
Indigenous teachings about water are now available through a new book titled Making the Water Sing which is ideal for young people aged 12-15 years. Leah contributed eight brightly colored illustrations to enhance the cultural knowledge contained in the story. The book can be ordered from www.wabano.com/store/products/making-the-water-sing-booklet
-----------------
Strong Nations is proud to announce a new addition to our Strong Readers series ~ We welcome the work of Leah Marie Dorion! Forthcoming titles will introduce 8 new Métis leveled readers that will support all learners. Students will learn about our Métis Peoples and educators will be supported with embedded literacy instructional practices.
The Strong Readers series are currently available at www.strongnations.com  
-----------------
Leah Dorion's latest children's book My First Metis Lobstick has been published by the Gabriel Dumont Institute. Visit www.shopmetis.ca to purchase! View the press release here.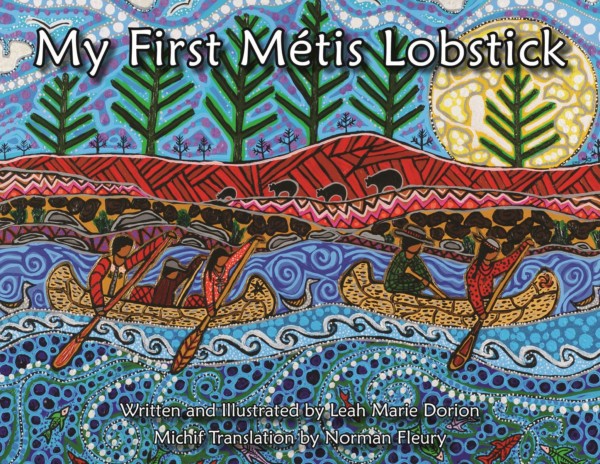 -----------------
FEATURED POEM BY LEAH MARIE DORION
WHO WILL SPEAK FOR THEM?

Indigenous rights, human rights, water rights, rights of the child, enter the age of survival, for all earthly species. Who will speak for them?

World ecological destruction from industrial pollution, oceans containing plastic reefs, toxic mercury, nuclear waste, is this humane?

What about rights of our whale, our salmon, our tuna to live in clean water? 

Traditional clan systems speak but who listens to the elderly, powerless, non-confrontational, and humble?

Fracking, uranium waste, toxic gases, intergenerational by-products of western capitalism…

What gives corporations the exclusive power to disregard the rights of all earthly species?  Media campaigns touting social responsibility, carbon credits…

Which world bank holds the royalty payment in "trust" for interspecies compensation of capitalist ecological destruction to their territories?   Will there be a time when our animal kingdom holds the balance of power?   Will they accept our blood money royalties or will they laugh at our ridiculous love for money and power?

Asbestos, arsenic, underground death rivers, birds dropping dead from the sky, deformities in caribou. Who will speak for them?

Development decisions made by elite millionaires drinking treated water, breathing from oxygen bars…Will people of privilege listen to our grandmothers and the clan mothers?

Treaties, agreements, false consultations, narrowly defined impact studies, duty to consult and accommodate, convenient distractions….while unmarked loads of radioactive waste move unknowingly through our communities and nations….decisions already made and implemented…

Enslavement, containment, misinformation, divide and conquer, all species indentured servants to oil and gas capitalist production, animal birth defects, infertility, allergies, as dark forces modify, commodify, strategize, and capitalize on suffering of all earthly species.

What about ALL our rights to clean air, clean water, clean food, clean land, and truthful education, as fish spawn in black sludge leaked from an uncontained tailings pond?

Oil slicked eggs, alarming death rates of pollinators, is this sustainability?

Who will speak for them?

Are there any balanced solutions we have not considered to heal the ugly truth of our current reality!

I will speak for equal rights to clean air, clean water, clean land, clean food, and pray every day as a beautiful blanket of white northern winter snow gives Mother Earth her well-earned rest.

Leah Marie Dorion, North Saskatchewan River, 2013
FEATURED ART WORKS BY LEAH MARIE DORION
For Wabano Centre for Aboriginal Health
Title: Strawberry Reconciliation Moon, 2013
In this painting a wise grandmother teaches her young granddaughter the cultural values and beliefs related to the Strawberry Moon of June. The grandmother holds her peace stick and tells the youth about how important it is to create a climate of forgiveness and reconciliation in our communities and families. Our cultural teachings of Strawberry moon provided our people with meaningful methods and ways to deal with our own conflicts and disagreements.
Title: Sitting Among the Heartberries, 2013
This painting honours some of the Elders teachings about putting our good minds together along with your hearts to make our own lives more peaceful, joyful, and pleasant. Our June moon is often referred to as the moon to practice forgiveness of self and others. The Strawberry moon teachings are directed at the women of the community because all women as life givers play a significant role in maintaining the great peace.